Bon Jovi – Lay Your Hands On Me
Music video by Bon Jovi performing Lay Your Hands On Me. (C) 1988 The Island Def Jam Music Group
Lyrics:
[Verse 1]
If you're ready, I'm willing and able
Help me lay my cards out on the table
You're mine and I'm yours for the taking
Right now the rules we made are meant for breaking
What you get ain't always what you see
But satisfaction's guaranteed
They say what you give is always what you need
So if you want me to lay my hands on you
[Chorus]
Lay your hands on me [x7]
[Verse 2]
I'm a fighter, I'm a poet, I'm a preacher
I've been to school and baby, I've been the teacher
If you show me how to get up off the ground
I can show you how to fly and never ever come back down
Everything you want is what I need
Satisfaction's guaranteed
But the ride don't never ever come for free
If you want me to lay my hands on you
[Chorus]
[Outro]
Don't you know I only aim to please
If you want me to lay my hands on you
Lay your hands on me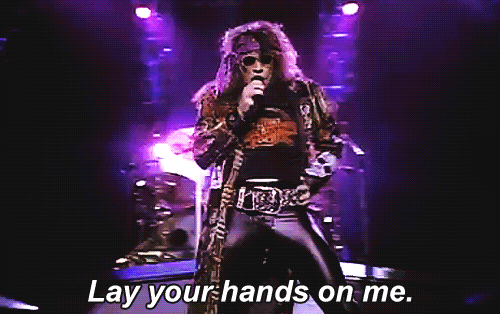 "Lay Your Hands on Me" is a song by American rock band Bon Jovi. It was released on August 1 1989 as the fourth single from the band's 1988 album New Jersey. It peaked at #7 on the Billboard Hot 100, becoming the band's fourth single from New Jersey to chart in the Top 10 and it also charted at #20 on the Mainstream rock charts.[1]
Song structure
The song runs 6 minutes, with a long intro focused on the drum beats of Tico Torres and keyboard playing of David Bryan as well as the chants of the crowd: "hey!", before going into an extremely hard rock song, filled with loud guitar riffs by Richie Sambora and the husky delivery of lyrics by Jon Bon Jovi. By Jon's own admission, this is one of the few Bon Jovi songs that was written from a guitar riff (Jon Bon Jovi's usual style is to begin writing a song with the title). It was written in the studio while they were recording the New Jersey album.
Music video
The video for this song was culled from performances at the Tacoma Dome in Tacoma, WA and the Memorial Coliseum in Portland, OR during The Jersey Syndicate Tour. It was also released to home video on New Jersey: The Videos and Cross Road: The Videos. The MTV video for "Lay Your Hands On Me" was shot in Salt Lake in May 1989.[2]
In concert
For live performances through the 80s and 90s, Sambora would use a double neck guitar with one neck tuned to drop D and the other tuned to Standard tuning. Examples of this can be seen in the official video clip, as well as in the Live From London DVD. During the 2000s he began using a single-necked guitar, as can be seen in The Crush Tour DVD. The song was performed a few times on the Lost Highway Tour. During recent performances on The Circle Tour, the song has been performed with Sambora on lead vocals.
This Left Feels Right version
"Lay Your Hands on Me" was re-recorded for 2003's This Left Feels Right album. The new version is in a laid-back acoustic style, featuring Sambora playing the Mandocello as the primary instrument. This version was performed at several concerts on the Have a Nice Day Tour.
Cover versions
After hearing the song and thinking it would be a good Gospel song, country singer Dolly Parton called Jon Bon Jovi and Richie Sambora and got permission to turn the song into a Gospel tune for her 2014 album, Blue Smoke. Dolly and Richie performed this cover at Glastonbury on 29 June 2014.
Charts
End
(Visited 75 times, 1 visits today)
You might be interested in