Ugly Kid Joe – Cats In The Cradle
Music video by Ugly Kid Joe performing Cats In The Cradle. (C) 1992 Universal Records, a Division of UMG Recordings, Inc.
Lyrics:
[Verse 1]
My child arrived just the other day
Came to the world in the usual way
But there were planes to catch, and bills to pay
He learned to walk while I was away
He was talkin' 'fore I knew it
And as he grew, he said
"I'm gonna be like you, Dad"
"You know, I'm gonna be like you"
[Chorus]
And the cats in the cradle and the silver spoon
Little boy blue and the man on the moon
"When you comin' home?", "Son, I don't know when"
"We'll get together then"
"You know we'll have a good time then"
[Verse 2]
Well, my son turned ten just the other day
He said, "Thanks for the ball, Dad, come on, let's play"
"Could you teach me to throw?" I said, "Not today"
"I got a lot to do." He said, "That's okay"
And he walked away
And he smiled and he said
"You know, I'm gonna be like him, yeah"
"You know I'm gonna be like him"
[Chorus]
And the cats in the cradle and the silver spoon
Little boy blue and the man on the moon
"When you comin' home?", "Son, I don't know when"
"We'll get together then"
"You know we'll have a good time then"
[Verse 3]
Well, he came from college just the other day
So much like a man, I just had to say
"I'm proud of you, could you sit for a while?"
He shook his head, and he said with a smile
"What I'd really like, Dad, is to borrow the car keys"
"See you later. Can I have them, please?"
[Chorus]
And the cats in the cradle and the silver spoon
Little boy blue and the man on the moon
"When you comin' home?", "Son, I don't know when"
"We'll get together then"
"You know we'll have a good time then"
[Verse 4]
I've long since retired, my son's moved away
I called him up just the other day
"I'd like to see you, if you don't mind"
He said, "I'd love to, Dad, if I could find the time"
"You see, my new job's a hassle and the kids have the flu"
"But it's sure nice talkin' to you, Dad, it's been sure nice talkin' to you"
And as I hung up the phone it occurred to me
He'd grown up just like me, my boy was just like me
[Chorus]
And the cats in the cradle and the silver spoon
Little boy blue and the man on the moon
"When you comin' home?", "Son, I don't know when"
"We'll get together then"
"You know we'll have a good time then"
And the cats in the cradle and the silver spoon
Little boy blue and the man on the moon
"When you comin' home?", "Son, I don't know when"
"We'll get together then"
"You know we'll have a good time then"
Ugly Kid Joe is an American rock band from Isla Vista, California, formed in 1987. The band's name spoofs that of another band, Pretty Boy Floyd. Ugly Kid Joe's sound includes a range of styles, including rock, hard rock, funk metal and heavy metal.
To date, Ugly Kid Joe have released four full-length albums, two compilation albums and two EPs. Their best selling records are As Ugly as They Wanna Be (1991) and America's Least Wanted (1992), which were both certified double platinum by the RIAA;[4] the former is notable for being the first EP to go platinum.[5] The band broke up in 1997, but announced a reunion in 2010.[6]

Early history (1990–1991)
Childhood friends Whitfield Crane and Klaus Eichstadt took an interest in music while growing up in Palo Alto, California. In 1990 Eichstadt joined Crane's band in Isla Vista, California. after the two recorded a demo with another Palo Alto native, record producer Eric Valentine. After several band member changes, the band signed with Mercury Records in 1991. By this time the As Ugly as They Wanna Be line-up was formed; consisting of Crane, Eichstadt, Mark Davis, Roger Lahr, and Cordell Crockett.[7]
Named "OVERDRIVE" basically, the band got its name Ugly Kid Joe as a parody of L.A. glam band Pretty Boy Floyd, initially for a one night show in Santa Barbara with guests Pretty Boy Floyd. Pretty Boy Floyd would pull out of the show and have the gig cancelled, but the band decided to keep the name.[7]
The band became popular in the early 1990s, mixing satirical humor and heavy metal. Its logo was a cartoon embodiment of an "ugly kid" wearing a backwards baseball hat and giving the finger. Heavily influenced by Black Sabbath, Ugly Kid Joe covered several of the veteran band's songs, including "Sweet Leaf" and "N.I.B." The group toured the United States several times, making its second tour in support of Scatterbrain, and later opening for former Black Sabbath lead vocalist Ozzy Osbourne.
The band released the E.P. As Ugly As They Wanna Be in October 1991, garnering success in 1992 with the single "Everything About You", which peaked at No. 3 in the UK Singles Chart and made it into the Billboard Top 10. Later in the year, the song would be used in the movie Wayne's World. As Ugly As They Wanna Be went on to sell over 1,000,000 copies in the U.S. alone, becoming the highest selling debut E.P. of all time.
Commercial success (1992–1996)
The band spent 2 months in the studio to record America's Least Wanted. During the process, Roger Lahr left the band due to musical differences and was eventually replaced by Sugartooth guitarist Dave Fortman in April 1992. Rob Halford of Judas Priest was a guest vocalist on the song "Goddamn Devil". The band sped up the recording process for their album in order to get a spot as a supporting act for Ozzy Osbourne's "No More Tears" tour. The band eventually landed a spot for the tour, only to have Crane fly back to L.A. several times to finish edits on the album. The album caused controversy with its cover, which features the band's mascot posing as the Statue of Liberty holding up the middle finger and holding a porno magazine in his hand instead of the hallowed Declaration. As some stores would not carry the album due to the cover image, the band decided to have an alternative cover made with the band's mascot chained and gagged showing it is the 'cleaned version' of the album.
America's Least Wanted appeared on the U.S. charts at No. 27 having sold over 600,000 units upon release and was considered a favorite among fans and critics. One critic praised the album as, "A rock record you can play all day." The album achieved Gold status in both Canada and Australia, Silver status in the United Kingdom, and went Platinum in the U.S.A. A cover of Harry Chapin's "Cat's in the Cradle" was subsequently released as a well-received single that sold over 500,000 copies in the United States alone and peaked at No. 7 in the UK Singles Chart.
The band would open for Ozzy Osbourne, and thereafter for Def Leppard for their European leg of the tour which was sold-out in 6 weeks. The band made a stop at the 1992 MTV Video Music Awards. The band spent 3 weeks playing sold-out shows in Australia and Japan. Ugly Kid Joe became the Reader's Choice for Best New Artist voted by Metal Edge and Raw magazine.
They also presented The Favorite Heavy Metal band award to Metallica at the American Music Awards in 1993. The band would also get nominated for Favorite Heavy Metal/Hard Rock New Artist but lost to Pearl Jam.
After their tour in support of their 1992 album America's Least Wanted, the band searched for a replacement drummer, as Mark Davis left to pursue a life away from the spotlight. The band tried out for new drummers, such as Bob Fernandez who only appeared on a cover of Black Sabbath's "N.I.B." for the Nativity in Black Black Sabbath tribute album. He also showed up in Brazil with the band at the Hollywood Rock festival in 1994 as headliners along with Aerosmith, Poison, among others. After attending a Souls at Zero show in Colorado, Crane became immediately impressed with the band's drummer, Shannon Larkin. Crane later called up Larkin to join Ugly Kid Joe to which Larkin agreed. The band then wrote some new song material with Larkin and embarked on a short tour titled the "Excuse To Go Snowboarding Tour" with guests Dog Eat Dog and Goldfinger. Larkin's contributions led to a grittier sound for the second album Menace to Sobriety, released in the summer of 1995. The album was recorded in Palacio Del Rio in northern Santa Barbara.
The band embarked on a tour in support of the album. They did a snowboard tour, a small club tour, and later a stadium tour opening for Bon Jovi and Van Halen. The band excluded "Everything About You" from their set list in order to show the fans that they stand tall on their recent material. At a show in Wembley Stadium in London, the band was joined on stage by Ozzy Osbourne's son, Jack Osbourne before playing Sabbath's "N.I.B".
Menace to Sobriety received much praise from the press and fans, and UK rock magazine Kerrang! ranked it as a contender for album of the year. Despite success overseas and a successful European tour, the album was given little encouragement from Mercury Records and subsequently failed in the United States.
After being dropped by Mercury, Ugly Kid Joe formed its own independent label, Evilution Records, for the release of the band's next album. With distribution support from Castle Communications, Motel California was released in late 1996, and again the band toured Europe to smaller crowds. The tour was named "Late Check-out Tour", underlining the band's characteristic sense of humor. Motel California, an album lead vocalist Whitfield Crane described as "heavy, funky, and has everything in it", initially received lukewarm reviews and sold poorly, though it has gained a minor cult following in recent times.
Break-up and aftermath (1997–2009)
Ugly Kid Joe disbanded in 1997. Drummer Shannon Larkin has been a member of Godsmack since 2002, while lead vocalist Whitfield Crane took the then vacant vocalist spot for New York City rock band Life of Agony whose former singer Keith Caputo had left the group in 1997. After his quick departure from Life of Agony, Crane collaborated with some Soulfly members on a new project called Medication (1999–2003) and Godsmack members on Another Animal (2006–2009).
In 2005, an unreleased video for "Bicycle Wheels" was made public onto the Ugly Kid Joe forum site (created in january 2004 by J.Goldman, aka DMJ, a fan from Israël). In 2007, an official Myspace page was made of the band, with old photographs of the band and other candid pictures along with promotional artwork and uploaded live footage and another unreleased music video for "Sandwich". Some of the other footage included footage of the band playing at the UC Santa Barbara campus before getting signed. Soon videos were turning up on YouTube by fans, some included live recordings of them in concert and television recordings. Meanwhile the band's main page featured live tracks and rare songs including a demo of "C.U.S.T." and a few tracks from Motel California and Menace to Sobriety.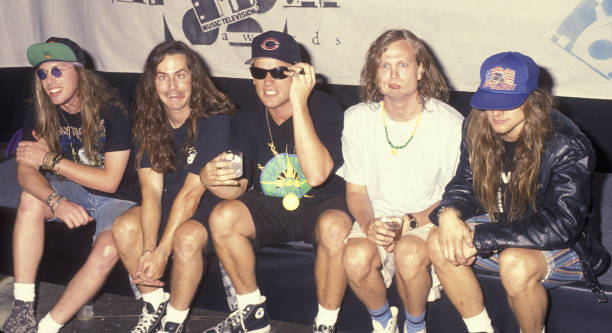 Reunion (2010–present)
Klaus Eichstadt stated in the December 2009 issue of the German edition of the music magazine Metal Hammer, that the members of Ugly Kid Joe were planning to reunite in summer 2010, although did not specify whether their intent was to produce a new album or simply to perform together. However, rumors of a reunion were confirmed on their MySpace page on May 27, 2010.[8] Their MySpace page also says that the reunion lineup will be the same as the last one before their breakup.
As of July 2011, according to drummer Shannon Larkin, a new album has been completed. He revealed the album's status in an interview with California's 107.7 The Bone at the Mayhem Festival, saying "It's a fun band – it's funny, you listen to the songs and it makes you laugh. Just a good-time rock band, y'know?"[9]
On September 9, 2011, vocalist Whitfield Crane made an update on the band's official Facebook page stating he appeared 107.7 The Bone the day before and played a new track called "Love Ain't True" and stating that a 6 track EP and was mixed and finished. According to official website "also in the works is an EPK documenting the reunification and the latest recording sessions along with some rare old footage of interviews, behind the scenes stuff, and live performances".
The new EP, Stairway to Hell, was released digitally on June 5, 2012, while physical version surfaced a month later, July 9.[10] In order to promote the recording, Ugly Kid Joe played a series of festivals that summer, including Sweden Rock in Sweden, Download in England, Gods of Metal in Milan, Italy, and Belgrade Calling in Serbia. They were the main support act for Guns N' Roses in Tel Aviv, Israel on July 3, 2012, and also for Alice Cooper on his "Raise The Dead" tour in October 2012.
Ugly Kid Joe started a joint co-headlining European tour with Skid Row in October 2013 kicking off the tour in Southampton, UK.
In February 2015, Ugly Kid Joe successfully used pledgemusic.com in a crowdfunding effort to pay for the recording of their next album, to be titled Uglier Than They Used Ta Be[11] set to be released on October 16, 2015.[12]
(Visited 22 times, 1 visits today)
You might be interested in